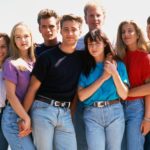 Tom and Molly are back for some new things! Today, they're talking about 90s nostalgia via discovery TV (RIP Luke Perry), the phenomenon of fauxtography, olive drab jackets, Weezer, plus the sub-thing of The Three-Body Problem.
Producer's note: We had some audio quality issues on this episodes. Perfectly listenable but Tom's volume is a little low at times.
Get the episode here.