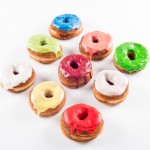 Look, we're not asking ANYTHING of you. Just don't make too big a deal of cronuts, give Peruvian food it's due, and just consider the merits of a paleo diet. But that's it. NOTHING else. OK maybe stop whispering. But that's it.
Show notes:
Cronut Scalpers
Peruvian Food is finally hot
ASMR and binaural videos on YouTube!